*CHANGES TO SHIPPING DUE TO COVID-19*
For the time being, orders will be shipped out only once per week. All orders will ship out every Saturday. Orders must be placed by Friday in order to be shipped out the Saturday of that same week. If you order on a Saturday, it will ship out the following Saturday. We are sorry for the delays, but there will be no exceptions. Once shipped, your order should reach you or your FFL in 2 to 3 days. You will receive an automated email containing your shipment notification and tracking information upon shipping your order. We thank you for your understanding and your business!
IMPORTANT INFORMATION TO COMPLETE YOUR FIREARMS PURCHASE:
All firearms sold online must be shipped to a Federal Firearms License holder (FFL) for transfer to end-buyer. By law, we are not allowed to ship any firearms to your personal address. All non-licensed (specifically FFL, not CHL/LTC) persons purchasing firearms from any dealer must fill out an ATF Form 4473 and clear a quick criminal background check. Your dealer, the FFL doing the transfer to you, will provide the form.
FINDING AN FFL:
To receive your online firearms purchase, contact any local firearms dealer (ranges, gun stores, pawn shops, big name sporting goods stores) and ask to have your firearm shipped to their address for transfer and pickup at their location. In some cases, the FFL will require you to fill out a contact information form with them online or in person before they will agree to do the transfer. This is not often the case, but do know it is possible.
Transfers can cost anywhere from $10-50 for a regular firearm. Shop around to get their transfer rates. Almost all big name sporting good stores, pawn shops and gun stores will perform a FFL transfer for you, enabling you to pick up firearms purchased online.
After you find an FFL you would like to do business with, we ask that you provide us the contact information for your FFL at checkout (explained below), and we will contact them. An FFL license sent to us by the purchaser will be disregarded as we need to get any and all information directly from your FFL and verify it before shipment.
**CHECKOUT PROCEDURE:
1. Click on your Cart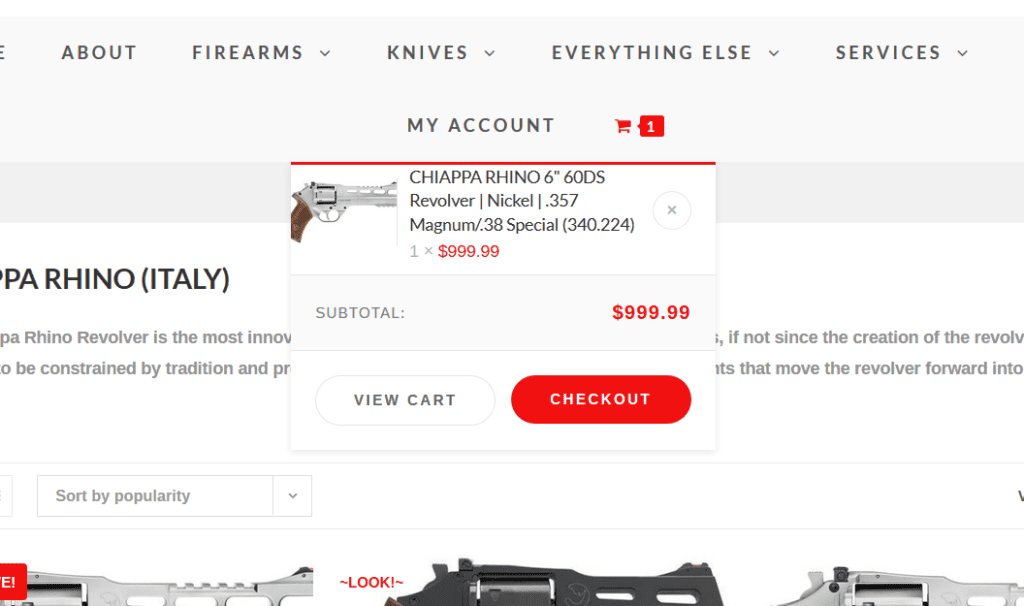 2. Click "Proceed to Checkout"
3. On the Checkout Page:
Enter the billing address that is associated with your credit card (all information should match the info used to open your credit card). For the Shipping Address, either "uncheck" the box labeled "Ship to a Different Address," or enter the Shipping Address exactly as your Billing Address. This will enable a smooth credit transaction. DO NOT ENTER YOUR FFL'S ADDRESS IN THE "SHIPPING ADDRESS" SECTION. We will not ship to your personal address, but the fields may not be left blank and should match the billing address.
4. Insert FFL Contact Info in the "Notes" section at the bottom of the Checkout Page
5. Agree to the Terms and Conditions & click Place Order

AFTER THE SALE:
We will call your FFL holder to confirm the information and ship to their address upon confirming their FFL license is still valid. You will receive notice of our shipment to your FFL holder and you can pick up you firearm at their location after filling out Form 4473 and passing a criminal background check (2-3 minute phone call).
Thank you for your purchase and we look forward to providing you with a secure and safe financial transaction and becoming your personal firearms dealer!